Welcome to Vistas at Redlynch, an estate nestled in the heart of a thriving regional city of Cairns in far north Queensland!
The estate boasts scenic mountain views, it is located next door to 2 great schools, 1km from Redlynch Central shopping centre anchored by Coles and Woolworths, and is only 12kms from the Cairns CBD! This premium location is also on the doorstep of the western arterial highway which services the beaches only 13 kms away to the north as well as the Kennedy Highway providing access to Kuranda and the tablelands.
Vistas at Redlynch is the perfect location for all your family's needs and is the perfect base from which to explore your tropical backyard on the weekends! We also have other estates further south and also north at the beaches with homes coming on the market in 2023.
Right now, we are proudly presenting brand new 4×2 homes with a full list of inclusions featuring stone bench tops in the kitchen, butler's pantry (if applicable) and laundry, quality appliances, AC to all living and bedrooms, 600×600 porcelain tiles, carpet to bedrooms, walk-in robes and ensuite in the master bedroom and built in robes to other bedrooms, full landscaping to the front and rear as well as fencing to 3 boundaries plus the latest layer 3 NBN FTTP delivery for internet connectivity. (For the full list of inclusions head to the inclusion tab in the main menu.) 
The quality of finishes in the house is second to none, this means you and your family can come home, relax and enjoy a brand new home that has been built right from the start. 
(Disclaimer: All internal images staged are for illustration purposes only and do not form part of any contract)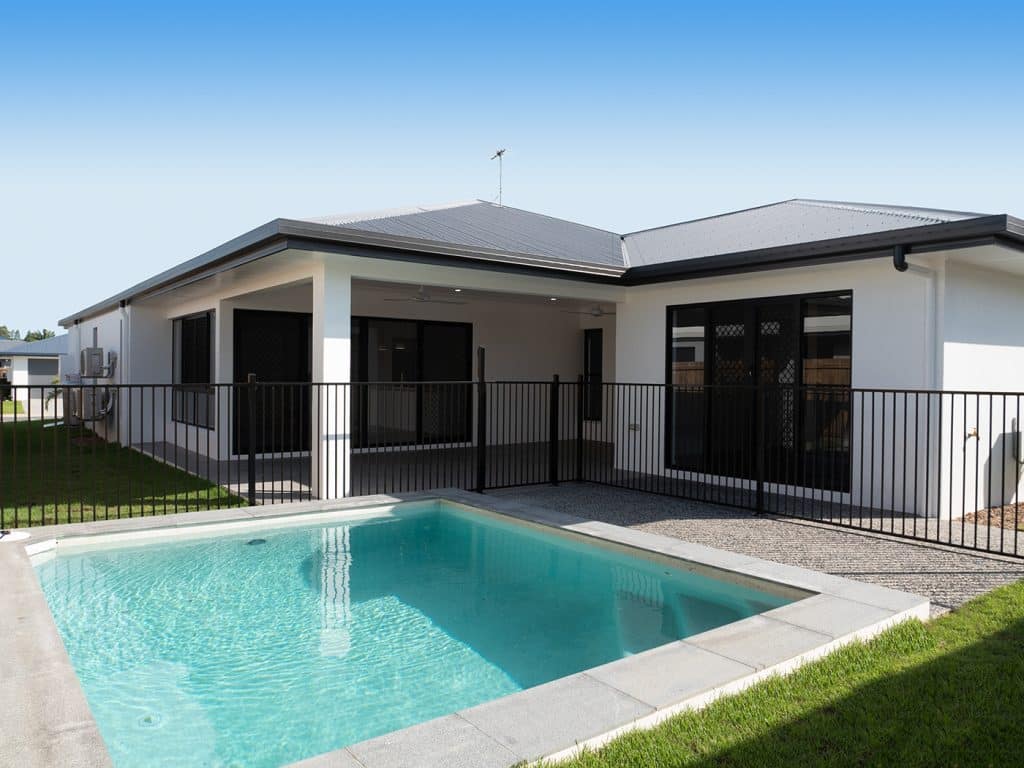 Many home owners opt for a pool to cool off in during the warmer months. The style of pools have evolved in the tropics with a range of smart sizes now on offer to suit the space available to have a refreshing quick dip! 
If you decide to build a custom home with our Key Start Homes brand you can start the conversation early and have a pool built into the design process. If you are choosing a house & land package there are many situations where a pool may be viable however there are a lot of factors that come into installing one and the costs associated with the install will vary. These factors include access to the rear of the property, potential underground sewerage pipes, distance from structures etc and all pool install requests are subject to site inspection by a professional to confirm viability. 
Your family's needs covered
The Cairns CBD may be bigger than you think. Even though it is a regional town it packs a punch with numerous restaurant offerings, a dynamic arts scene, and plenty of communal spaces areas for social gatherings and recreation and is a destination city hosting major international exhibitions plus has a wharf servicing numerous cruise ships and the tourists that come to town seeking a taste of the reef and rainforest.
The Cairns Regional Council has put together a great website with stories of people relocating to the Cairns Region including the vast number of jobs in need in this region, particularly in the trade industries. Click on the link below to explore all that Cairns has to offer:
Once your routine activities, shopping and sports commitments are done, the rest of the weekend is yours! So where do you go and what do you do? There is an endless list of possibilities in the tropics that is sure to please the adventurer at heart. A large majority of these are free with a multitude of rainforests, walking trails, waterfalls (Milla Milla falls pictured above) and waterholes to explore – one of them being only 100 metres from the estate (Goomboora Park) or further down the valley (Crystal Cascades). Local destination companies have put together a range of cheap or free activities to do (click here) There's often a 20% locals discount on many epic adventures like exploring Fitzroy Island (pictured here). It really is a tropical life-change that is on offer with a move to Cairns!
Of course if you just need to put the feet up and enjoy the scenic views of the estate or go for a stroll around the neighbourhood you will be in good company. Many of our residents enjoy the community spirit that comes with providing footpaths, a generous sized parkland area, and no front fencing which means you get to know your neighbours making Vistas at Redlynch a great place to live. 
Are you ready for a tropical life-change?
It's a big decision to move inter-state. There are many things to consider including work, school, family, financial situation and much more. Please seek advice from your financial advisor to determine viability of a move to Cairns. The average cost of a brand new 4×2 home in Vistas at Redlynch estate is approximately $700K (subject to change at any time). Many of us locals in Cairns came up on holiday and never left! If you have ever been here its easy to see why, and that's why we are excited to join with you and share what is possible. Right now, we are taking all expressions of interest in knowing more about Vistas at Redlynch and start a journey of exploration of a tropical life-change! Simply fill in the details below and we will be in touch.